Allergens
AgraStrip® Pro Allergens
Fast, simple and reliable allergen testing
AgraStrip® Pro Allergen Test Kits represent a user-friendly, rapid solution for on-site allergen detection. These state-of-the-art lateral flow devices (LFD) deliver accurate results in just 11 minutes, including extraction time, making them an ideal choice for fast-paced environments.
AgraStrip® Pro Allergen LFD kits are fast and simple to use. After a 1-minute extraction, the sample is transferred to an incubation vial containing allergen-specific antibodies. The formation of allergen-antibody complexes is then detected on the test strips, where they are visualized as a colored line.

The procedure is simple and streamlined, designed to minimize handling and reduce the possibility of contamination. It can be used not only for swabs or rinse water samples but also for foodstuffs, without the need for extra buffers or centrifugation steps.
NEW: The AgraStrip® Pro kits are now compatible with the AgraVision™ Pro system, unleashing a wealth of additional, key customer benefits.
Learn more about AgraStrip® Pro Allergen test kits today!
Experience the streamlined procedure on the AgraVision™ Pro reader. Contact us below.
Contact us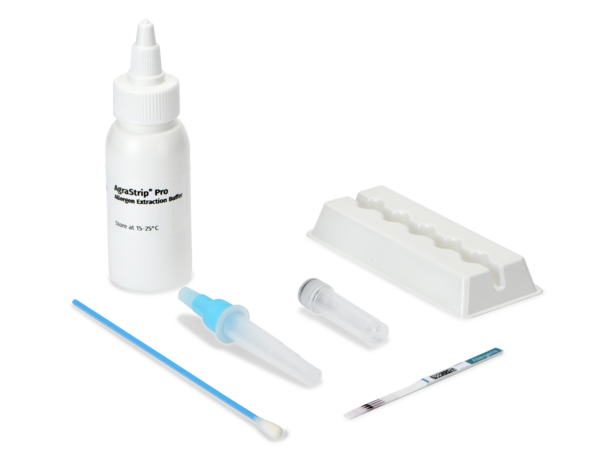 Features and Benefits
Highly specific and sensitive - Achieve precise and accurate results at low cut-off levels.

Easy and simple procedure - Minimize handling and reduce contamination risks without requiring intensive training.

Ready-to-use components - Bypass additional equipment or preparation, streamlining your workflow and conserving both time and resources.

Fast results on site – 11 minutes including extraction - Obtain insights in just 11 minutes, inclusive of extraction, expediting your decision-making process.

Suitable for on-site testing - Benefit from the flexibility to test outside traditional lab environments, enhancing your testing versatility.

Storage at room temperature - Reduce shipping costs associated with temperature-controlled items and minimize downtime, as there's no waiting for kits to warm up. Additionally, you'll save on refrigeration space.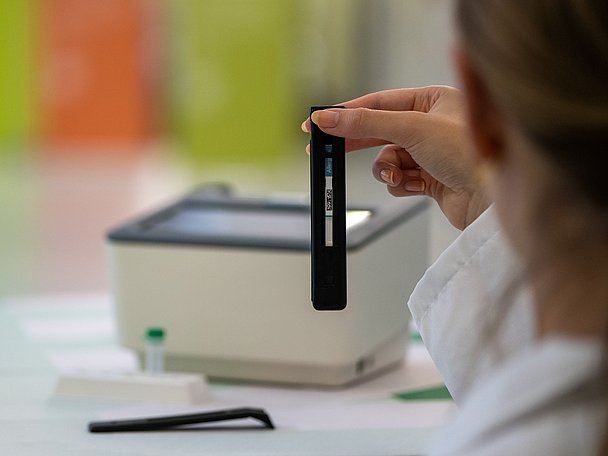 NEW: Unlock Additional Benefits
by using AgraStrip® Pro Allergen Test Strips with the AgraVision™ Pro Reader
 
Objective and consistent results - Eliminate the uncertainty in strip result readings and diminish analyst-related variability. Strips incubated at higher temperatures mitigate environmental influences.

Simple and more efficient workflow - The reader times the 2nd incubation automatically, ensuring results are read at the exact 5-minute mark. You can run up to 4 tests concurrently.

Connected - Stay on top of your data with blockchain-enabled test strips. Seamlessly collect, document, and manage data with Romer Labs Data Manager. Transfer this data to a PC, export to LIMS, or print out a report.